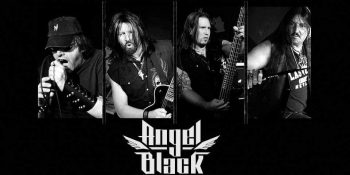 Normally I am talking about some melodic rock. Not this time. It's time for some in your face METAL! I am usually really picky about my likes in this genre, but I found one that I HAVE to tell you about. Besides, isn't that what we are here to do? Turn you onto new music that reaches down and kicks you where it hurts. Get ready to be kicked there as well a punch in the teeth.
The Band
ANGEL BLACK hailing from Phoenix, AZ, bring you Killing Demons, on Rockshots Records. With "Black Heart" being their first single, it clearly shows the heart of this band has a hard and powerful sound. Also, there are enough solos and melody when called for. The album as a whole brings forth a classic metal feel backed with a modern production sound.
The Album
"Strikeforce" is the first sensory assault with that classic metal sound that is so evident to even the most seasoned listener of metal. The vocals show a very clear influence of the band's inspirations. "Cyber Spy" is a song filled with strong, stunning solos, and the bass is really here to help punctuate that. "Death Mill", is a song with some ornate guitar work in the beginning, soon, however, the solos turn thunderous, the riffs get loud & powerful and just simply becomes an amazing track.
"Black Heart" is a real kick in the gut, and remind us of what missing in today's modern metal scene. "Killing Demons" is another great song, while "The Dream That Stood Alone" is a track that doesn't keep up with the rest. Next is "Killing Me". Another song with guttural sounding guitars, and assaulting percussion. Lastly a cover of the classic Judas Priest tune, "Metal Gods", respectful of the original, it ends what I think should be a classic metal album. Angel Black, are here, and stay they shall!
Rock On!
BUY: AMAZON.CA / AMAZON.COM
Check out all my reviews: Trevor's Archives

Trevor "Psychoone" McDougall
Email me at: psychoone40@hotmail.com
TRACKS:
Strikeforce
Cyber Spy
Death Mill
Black Heart
Killing Demons
The Dream That Stood Alone
Metal Gods (Judas Priest Cover)
Line Up:
John Cason – Vocals
Mike Jelinek – Guitars
Carl Strohmyer – Bass Guitar
Daniel Beck – Drums
[embedyt] https://www.youtube.com/watch?v=5sVU4QIdXgs[/embedyt]