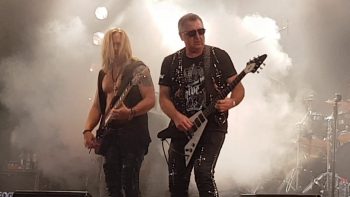 Unlike CGCM Podcast's The Meister this Psycho cannot travel worldwide to take in concerts. The lack of funds, family responsibilities and the simple fact of no passport doesn't help. So with that in mind, the closest I can get is DVDs, YouTube and live albums.
I'm not always big on live albums, however. Yes, I own the biggies like KISS –Alive and Iron Maiden's Live After Death but sometimes they just sound like studio recordings with audience noise pumped in.
With Bonfire's latest live record Live on Holy Ground – Wacken 2018. This is not the case!  I've always been a fan of Bonfire all throughout the many lineup changes and turmoil that they have had. Still never seen them though. This album makes you feel like you're right there in amongst the sweating masses of metal fans. You can almost feel the heat and smell the air while listening to the music.
With many songs spanning their illustrious career, this is truly a Canadian fan's delight to experience. Now you might be able to hear Rich "The Meister" Dillon shaking his head saying "it's not the same" but I don't care.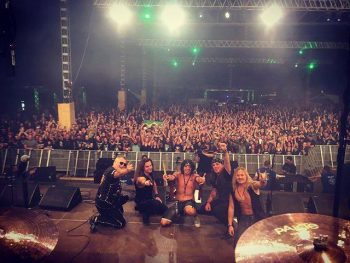 With ten live tracks and four bonus tracks of new and radio edits, this will definitely fit in well with the rest of my Bonfire discography. Also if fans wish they can also buy the DVD version of the live show with the bonus tracks as bonus videos on the disk.
So the release date is June 14th. Trust me this truly live experience (as live CDs and DVDs can be) is especially worth waiting for. If you're a fan like me who cannot jet-set across the world then we might as well enjoy the next best thing! Or we could just wait for The Meister's live reports from around the world!
Rock on!
Buy Music: AMAZON.COM
Furthermore, check out all my reviews: Trevor's Archives
Trevor "Psychoone" McDougall
Email Me at: psychoone40@hotmail.com
Tracks
In The Beginning (Live)
Ready 4 Reaction (Live)
Never Mind (Live)
Don't Touch The Light (Live)
American Nights (Live)
Give It A Try (Live)
Sword And Stone (Live)
SDI (Live)
Sweet Obsession (Live)
Champion (Live)
Praying For A Miracle – Radio Edit
Locomotive Breath – Single Edit
American Nights – 2019 Edit
Sweet Obsession – 2019 Edit
Band
Hans Ziller – Guitars/Backing Vocals
Alexx Stahl – Lead Vocals
Ronnie Parkes – Bass/Backing Vocals
Frank Pane´- Guitars/Backing Vocals
Andre` Hilgers – Drums