Sometimes when you're just at home after a long arduous day at work you just fall into your recliner, order some pizza and just need to chill and be taken away.
Music has always been an escape for me. I can listen to a CD or album or even a live concert DVD and just forget about all the bullshit the world throws at me. This day is no exception but I choose something I knew nothing about nor have listened to before.
The Darby Mills Project
No, it's not a new album, just new to me. The interest came from the CGCM Website with the events that are advertised there for The Darby Mills Project and Killer Dwarfs. Being Canadian and a Hard Rock/Metal fan of course I knew and love the Dwarfs, but didn't know Darby.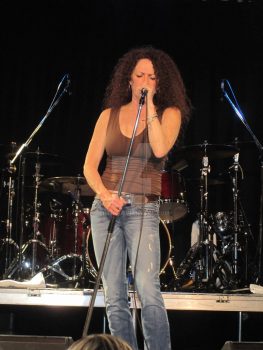 Yes, I was aware of the Headpins, but never actually heard them. As soon as I put the CD on I had to double check because coming through my headphones was an amazing singer doing a great impression of Ann Wilson from HEART.
Since I was always a fan of Heart and Ann I was instantly transported away like I wanted and just enjoyed every second. The CD is called Flying Solo from 2018 and I cannot believe this one missed my radar.
Even having opened for great bands like KISS, Whitesnake and Aerosmith I still hadn't heard or maybe I choose to ignore her great voice. Not anymore!  I have seen the light and greatness that is Darby Mills.
If you are like me and haven't ever heard of this vocal powerhouse accompanied by some stellar musicianship then check out Flying Solo. And if you're a fan of the Killer Dwarfs and wanna just have a great night of Rock and Roll with some friends then go to one of the Darby Mills Project/Killer Dwarf shows May 8th in Guelph, Ontario or May 9th in Hamilton, Ontario and finally May 11th in Kingston, Ontario brought to us from JASA Entertainment. Click here to find out more info and buy tickets!
Until then try to not let the daily grind wear you down. Keep smiling (it makes people wonder what you're up too!) and always remember that a night of Rock is and always has been the perfect escape for a few hours! So go have fun, raise the hoof, drink a Rhythm & Brews beer and support the artists.
Peace!👍
Buy Music: AMAZON.COM
Furthermore, check out all my reviews: Trevor's Archives
Trevor "Psychoone" McDougall
Email Me at: psychoone40@hotmail.com
Tracks
Don't Stop Keepin' On
Hot Water
Cry To Me
Give It All Up
Never Look Back
Run
Monkey
Someone Turn The Light On
Want It
Bad Bad Boy
House On Pooh Corner