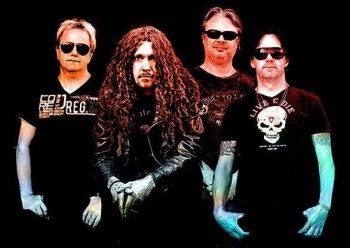 Firmly rooted in the '70s and 80's and an influence such as Thin Lizzy, Dogface has always stayed true to their sound. No this isn't a new album per se, but to many, it will be new to them. From The End To The Beginning is a greatest hits collection that represents the first three albums with a fresh perspective that will be the band's last, unfortunately.
The Band's History
In 1988 Martin Kronlund was listening to such bands as Deep Purple, Rainbow and the aforementioned Thin Lizzy. And with friends that were embedded with the same musical loves he had, Dogface was born. Working away Martin soon contacted Anders Skoog who had a C3 Organ that fit the sound being desired and he had experience working with an early Gypsy Rose from Sweden.  Soon afterward they reached out to Patrik Engelbrektsson and Stefan Egeman and recording for the first album began.
After going through a few singers they reached out to Mats Leven, whom Martin worked with before and everything clicked as it was supposed too. The group was soon signed to Sweden's MTM Music and Dogface – Unleashed hit the shelves. It quickly became Europe's best melodic Hard Rock release of 2000.
Later that same year the band hit the studio once again to begin recording In Control inside of Kronlund's own studio. A new beginning was seen after Leven cut his hair and a  long break was taken before Back On The Streets was released 2013. Mats Leven and Kronlund were the only remaining members at this point and on the record.
In 2018 Dogface released Releashed. This was a remixed and remastered version of Unleashed on Melodic Rock Records. Fast forward to now and we get what the band claims will be the last and final album of Dogface because it truly represents what the sound is and what they wanted to be remembered for.
Psycho Thoughts
As much as I've always loved the sound the band has I'm disheartened to learn that this may be the last. I think many fans of Dogface will feel the same. With the resurgence of the sound they have and hard rock rising again on the charts with the highest growth in 2019 in recent years, I truly hope the guys try at least once more with some new material.
Keep The Music Alive!
Buy Music: AMAZON.COM
Furthermore, check out all my reviews: Trevor's Archives
Trevor "Psychoone" McDougall
Email Me at: psychoone40@hotmail.com
CGCM Podcast's Rich "The Meister" Dillon's review of Back On The Streets
Band
Mats Levén
Martin Kronlund
Mikael Carlsson
Perra Johansson
Tracks
Don't
Not Wanted
A Single Reason
I Will Be There
Sleeping With The Enemy
Footsteps On The Moon
Right Between The Lies
Alone Again
Can't Face Tomorrow
You've Taken Me Down
I Don't Care
Leave This War
Spit it out
Rule The Night
Let It Out