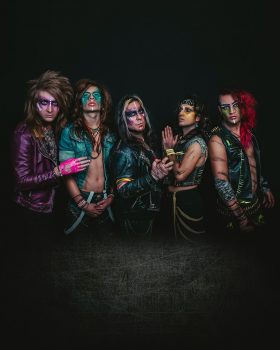 Let us be completely honest here. When you go looking for new music, it is the name, the logo, or maybe the picture on the front that grabs your attention right? Maybe sometimes it's the name of the producer. Regardless of the reason, the newest release Mighty Jungle from Exxocet did that for me!
Exxocet – Mighty Jungle
Exxocet is a Hard Rock/Heavy Metal band from the streets of Santiago, Chile. Their mission statement is to bring back that 80's Hard Rock with a modern day twist and even make it a little heavier. Featuring the dual guitar attack of Ricci Love L and Lukky Sparxx, Chris Lion on vocals, Danny Crow on Bass, and Tom Azzter on the skins, they've done just that.
I loaded this into my player not quite knowing what to expect. At first, I was thrown into a jungle, the sounds, the animals, and then the tribal beats began to pound right into "Cannibal Carnival." Not being familiar with Exxocet I wasn't aware that this was their second album, their first being, Rock and Roll Under Attack. So I dived into Mighty Jungle, and before I knew it I was drumming along on anything I could pound my fingers against. Throughout every song, I was in till the end, and loving each note. I might have to say that this one might be, again in my top ten of releases so far this year!
Exxocet: Mighty Jungle- The Summary
Quite simply put, I was bouncing off the walls with every track off this album! Oozing and dripping with that 80's sound I soon found myself hopping online, and grabbing the bands' previous album!  All killer, and absolutely no filler here. This one will want to make you break out the Aquanet, and spandex tights. I, however, won't subject anyone to that sight, but I will say this. Go grab Mighty Jungle, slam it into your player, and enjoy every second. I did!
Rock on!
BUY: AMAZON.COM
Check out all my reviews! Trevor's Reviews
Trevor "Psychoone" McDougall
Email Me @ psychoone40@hotmail.com