Hessler's remaining members from their last release are Igz Kincaid on lead vocals and guitars and Erik Michael moving to guitars and backing vocals. The vocals are definitely different from past releases, but the energy and ferocity are definitely here. Joining Kincaid and Michael are Adam Arling on bass (The Last Vegas, Warrior Soul, Furbaby, Urge Overkill) and Richo Marquina (Black Actress) on drums.
It's not exactly a concept album, but it definitely has an underlying theme of post-apocalyptic decay to it. From the cover art to "AKIRA" and the title track "When the Sky Is Black", it has the feel of a bleak sci-fi tale of a world gone wrong. It's a dark album sprinkled with a few covers that for the most part lighten things up a bit with nostalgia. Overall, the album works great and would be a perfect addition for any fan of what Turbonegro called "deathpunk". Some longer-term fans might not like the vocal direction, but as a new fan of Hessler I can absolutely get behind Kincaid's lead vocals.
The Highlights
"AKIRA" is just a great song. The chorus is ridiculously catchy. The opening grabs you and you know you're in for a treat. Apparently, a "Monster bomb went off" and now we're off on a kick ass tour of the desolation. These guys really hit the sweet spot for me: hard rock with a serious punk edge and this song really nails it. I'm just not quite sure what AKIRA stands for.
Later on the album, we have another song about a lost generation in some dystopian future: "wretched souls, the afterthought/We are the ones that God forgot." Clearly the inspiration for the cover, "When the Sky is Black" might be my favourite song on the album. Opening with a smooth bass line from Arling, the combo of Marquina and Michael set a driving pace. The post screaming guitar solo breakdown about two thirds of the way hits you with that riff and it goes from a good to a great song.
"El Jefe" is an interesting stripped-down acoustic song. Although definitely a different tempo than the rest of the songs on the album, the theme fits right in. It's a barroom shanty for a desolate town right out of Mad Max.
The Covers
I've described before how much I love covers. I'm a big fan and I think it's a great way for artists to connect with fans. Hessler does just that with their choices on this album. Let's start with the best and go from there.
"No I'm Alpha Male" is a fitting tribute to Hessler's most obvious influence, Turbonegro. Hessler nails it with a cover that, while staying true to the original, they are able to make it their own. This version is a bit more polished but still harnesses the anger you'd expect. They even manage a shout-out to their home town Chicago.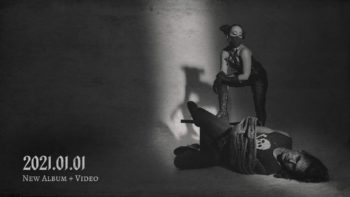 For the next song on the album, they decide to try their hand on another huge influence: The Misfits. Hessler's approach here is another fairly straight-forward recreation of the original. The opening bass and twangy guitars announce another visit to the "London Dungeon". Kincaid does a nice job and the song fits his vocals well.
Finally, Hessler takes a swing at another influential song "Twilight Zone" by Golden Earring. While fitting in with the overall sci-fi theme of the album, this one is a miss for me. They definitely recreate the song in a uniquely Hessler way, but it really doesn't fit.
Final Thoughts
Overall I really dig this album. On the occasional warm days, it's been my preferred choice to blast with the windows down and annoy my fellow drivers. It's fast, it's dark, but it's also catchy and amps you up. If I were looking for a workout album, this would be perfect. Now that I have one, I suppose I better get cracking.
BUY:  AMAZON.com / AMAZON.co.uk
Also, find more of my CGCM reviews here: Dave Wilks
Dave Wilks
[embedyt] https://youtu.be/EmAUEibbhlM[/embedyt]
[embedyt] https://youtu.be/32Ynxt9IyrU[/embedyt]