Yes, It's me. The "Psychoone" returns, with yet another album, that I feel I must tell you about!  No, I don't get paid for this. No there are no kickbacks. I do this because of my love for the music and my passion to bring new, and great music to the readers, and the followers that may (or may not) read this. Either way, I feel like these days the only good way to get the word out there of great albums, and bands is by word of mouth, so here I am spouting off mine. Welcome to John Diva & The Rockets of Love.
The Album
Taking a few words from the press kit, "The flashy band in the style of the eighties has been blessed with the talent of bringing a breath of fresh air to classic rock music. They are the rightful heirs of an era in which Van Halen, Aerosmith, Bon Jovi, Whitesnake, Scorpions, Guns N` Roses or Mötley Crüe roved around all over the planet and took apart anything they could get their hands on. John Diva is charged US entertainment at its very best.
Equipped visually and musically with all the key ingredients that this form of music entails, John Diva and his Rockets embody smooth riffs, racy guitar solos bordering on supersonic, anthem-like choruses and graphic texts filled with the stories of life, not always completely G-rated. Their debut album, named Mama Said Rock Is Dead with tongue-in-cheek humour, tells stories from the life of Rock'N'Roll James Bond John Diva in full sound."
Thoughts about the  Band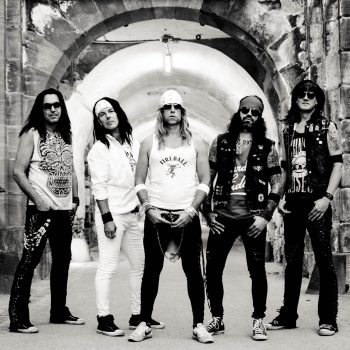 These words could not have described this band or album any better! The melodic vocals are the perfect accents to the stunning playing on this album! From the opening song of "Whiplash," you're smiling so much that the corners of your mouth would get sore. Yes, I can hear you now saying something about the band name.  Well, names aren't everything. Look at bands like KISS. A name like John Diva & The Rockets of Love could almost have the same double entendre if you think about it! Regardless of the name, let's let the music do the talking for this one!  Having written with legendary greats such as Def Leppard, Bon Jovi, Whitesnake, and Poison, you know that John Diva & The Rockets Of Love know how to write a great party Rock 'N' Roll song, and this album is packed full with them.
Psycho Thoughts
The standout track for me on this album is hands down, "Rock 'n' Roll Heaven." You can see why its chosen as the single for the album! The sing-a-long chorus is simply infectious with its grooving beats, and guitars. You even get to hear an organ riff in the completion of the song that doesn't normally fit well with Rock, but here it fits in like a Love Rocket! You simply cannot go wrong dropping your hard earned cash on Mama Said Rock Is Dead. It is simply a fantastic album for any fan of the aforementioned bands! This could fit right in on the stations between, "Pour Some Sugar on me" and "Nothing But A Good Time", or even "Kickstart My Heart"! That is simply what this album brings back. That feel good feeling of listening to a party rock band and loving every minute of it!
Peace!
Buy Music: AMAZON.CA / AMAZON.COM
Furthermore, check out all my reviews: Trevor's Archives
Trevor "Psychoone" McDougall
Email Me at: psychoone40@hotmail.com
Band
John Diva – Vocals
J.J. Love – Guitars
Snake Roberts – Guitars
Remmie Martin – Bass
Lee Stingray – Drums
Tracks
Whiplash
Lolita
Rock 'n' Roll Heaven
Wild Life
Blinded
Dirty Dance
Just a Night Away
Fire Eyes
Get It On
Long Legs
Toxic
Rocket Of Love