Okay, I'll admit, that sometimes I am late to the game. These days with the internet, and Social Media, it's getting a LOT easier than it used to be. Living in a small town about two hours away from the nearest "city," and nothing else but retiree's around, there isn't much of a Hard Rock/Metal scene in my area. All I can say is, thank God for Facebook groups and podcasts that introduce me to the new and great acts out there and even sometimes older bands that might have slipped by in the past.
KAATO, (Pronounced KAR-TOW) is just one example of such a band. The album I found was their newest effort, Slam! From beginning to end, this album is a breath of fresh air to any Rock fan.
A Brief History About KAATO
In 2016, a young, and talented gent named Kurt Lowney looked to The Land of the Rising Sun of Japan, for inspiration and that elusive sound he could feel in his heart and hear in his head. The multi-faceted musician was on a mission for the sound he wanted to create. In May of that year, just three weeks after the catastrophic earthquake, tsunami and nuclear disasters that devastated Japan and saw countless people fleeing, Kurt flew into Tokyo to record, entirely solo, his first 5-track EP.
Making that EP was troubling at best. With constant earthquake warnings and aftershocks, he trudged along to complete his vision. After each earth tossing moment completed, he and his sound engineer, Takashi "Patch" Kitaguchi along with the studio manager sat back down and completed the dream that Kurt wanted to bring to life.
Touring afterward in support, Kurt found himself in LA, eventually landing himself in the Music City of Nashville, Tennessee. Bringing along his longtime friend, and bass player, Mike Nuutinen they shared the road and vision of the music they wanted to create.
The New Album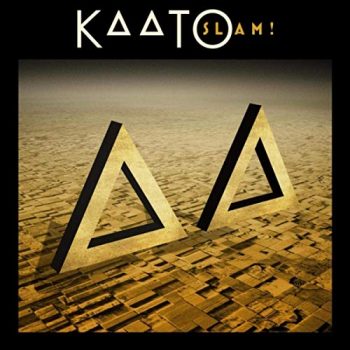 Fast forward to 2019, and the guys have yet another contribution. Slam! is the album that shows the growth and expanded talents since the first self-titled release in 2016. From the opening title track of "Slam!" right through to the closer of "Drivin' Home," you are on a Rock N Roll journey that pays a tribute to the great artists that have influenced the band but stays true and fresh to itself, presenting a unique appeal to any listener.
Each song on this album seems to have almost a southern groove flair, but not enough to class it as Southern Rock. But it is heavy enough to be in the Hard Rock flavour. A perfect example of this would be the second track, "Glamour Queen" with its very infectious grooves and melodies everyone listening would be swaying along in seconds. This carries throughout in each track with each having a cohesiveness that finds this listener had completed the whole album before he knew it and needing to give it another spin from beginning to end again.
Final Say
I really cannot say too much about KAATO and Slam! Other than this…Listen to it, enjoy it and immerse yourself into the dream that has come to reality for the youngster that has put the hard work and effort into this with every step he has taken. It's absolutely worth your time to do this. You won't regret a second of your time spent or any dollar spent to enjoy this record!
Rock On!
Buy Music: AMAZON.COM
Furthermore, check out all my reviews: Trevor's Archives
Trevor "Psychoone" McDougall
Email Me at: psychoone40@hotmail.com
Tracks
Slam!
Glamour Queen
Somebody, Someday
Addicted
In Passing
Communication
Drivin' Home