Sleaze dripping, spandex & leather-wearing, guitar ripping, bass, and drum pounding, kick your teeth in, make you want to grab your leopard print bandanas, and the aqua-net. If this doesn't get you thinking of the great glam bands of the time, well I have a great reminder for you, and you don't even have to time-travel.
Let them bring Glam!
The band Madhouse has spewed forth not of L.A. but from the gutters of Austria. These guys have a mission statement and it's to ooze forth and spread the word of Glam and stellar hard rock. They have recently unleashed their debut, in your face album, Money Talks, Bullshit Walks with 12 full tracks of pure lunatic glam rock. Heavily influenced by everyone's favourite bands of the era, Madhouse has brought together a gang of like-mindedness music dregs to form this band.
No this is nothing like Steel Panther. This isn't a fun, spoof-like band that goes over the top. Madhouse is the real deal. With pure whiskey, beer and party blood flowing through their veins, it's a fantastic journey from the first track to the very end. Tommy Lovelace on vocals has that old fashioned, raspy vocal sound that sometimes sounds just like Stephen Pearcy from RATT. Place that beside the duel attack on guitars from Mikki Stixx and Freddy Heart, you have a sound that just is gaining more and more speed again to catch up to its predecessors of the "Strip Era". However, that's not all! You must add in the percussion of Ken Shuri beating the hell out of the drums and Ricky Dee on bass. Here you have the sound of Madhouse from Mars Music Productions.
Entering the Madhouse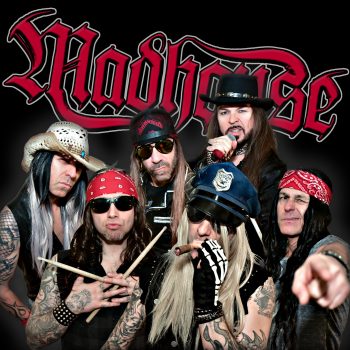 You're immediately treated to a full-on duel attack on guitars when the pounding percussion comes in adding a rawness to the track. Combine that with the vocals and you have classic 80's sound once again blasting your eardrums. The title of this track is even classic sounding. "Boom, Boob Shaker" shows the listener that these guys are sticking to their manifesto and want to help lead the charge in the resurgence of glam/sleaze rock to a new generation. Just to note, if you're lonely and listen to this track, there is a nice-sounding female whispering sweet nothings into your ear.
Next in the onslaught is the title track of "Money Talks, Bullshit Walks". Ah, the sound of the cowbell! (Can there ever be enough?) The vocals really lead this track. When listening to this song, I immediately thought RATT. I could hear every note and lyric being done by Stephen and the classic gang.
Slipping into a nice warm third place is "Crazy Night". Trust me, this isn't any cover version of KISS. This is a standout track with a blistering guitar sound as well as some great lyric writing and even grunts and gang vocals throughout.
Working Up a Sweat yet?
First-quarter into the album and we have, "First Time Lover". Loved the music intro to the song before the vocals kick in. This song proves once again how much a singer should also be considered an "instrument" in a band. Great tune, but sometimes listening to this one feels like surfing the waves. It seems to flow up and down. Regardless of that, this listener still hasn't skipped a song yet.
Bring on the sounds of the nightlife with sirens and traffic and then add the guitar opening riff. Throw the drums in, and…POW, you're off. "Push, Push, Rip & Tear" may sound like a title from a Cinderella throw away, but I can assure you it's not. This is the song that stands out to me as the one that screams their motto. The first vocals are "Look out!" and "Straight from the Gutter". The tone of this is straight off the Whiskey stage. Bring it on I say.
Wrap it up. (Double entendre intended!)
Let's fast forward a bit to save some of the gems on this album to your own opinion. Track eleven on Madhouse – Money Talks Bullshit Walks is "Sick Sex". Does anything else need to be said with a title like that? Let your imagination go wild, then check out the track. You'll be glad you did.
Coming in the backdoor, in the final spot before you hit repeat on the whole album is "Hard 'N Heavy". With the comedic opening, sounds of a smoke being lit, you're instantly treated to a full-on assault from the band, sans vocals. Once the lyrics hit, it's pure sleaze sounding. This is a great example of sometimes less is more. A great way to finish off the album. Always leave them wanting more they say and this tune does just that.
Psycho Thoughts
Madhouse – Money Talks Bullshit Walks is EXACTLY what I love to hear. This album is right in my wheelhouse of the music I truly love to listen too. Whether it be driving, at work, or school, it hasn't failed to motivate me. I just hope that Madhouse doesn't fall off the path, continues to march forth and bring more music like what is represented here. This album could literally make the top 10 of 2019 for me. The only problem I could find is that it is still very new and it could be a while before a follow-up.
Stay Sleazy People!
Buy – AMAZON.COM
Furthermore, check out all my reviews: Trevor's Archives
Trevor "Psychoone" McDougall
Email Me at: Trevor "Psychoone" McD
Band
Tommy Lovelace – Vocals
Mikki Stixx – Guitars
Freddy Heart – Guitars
Ricky Dee – Bass
Ken Shuri – Drums
Madhouse – Money Talks Bullshit Walks – Tracklist
Boom Boob Shaker
Money Talks, Bullshit Walks
Crazy Nights
First Time Lover
Push, Push Rip & Tear
Knuckle Sandwich
Tears Like Rain
W.P.O.S.
Kiss My Ass (Till Paradise)
First In The Row
Sick Sex
Hard 'N Heavy
[embedyt] https://www.youtube.com/watch?v=T3Gg0-hH0gw[/embedyt]
[embedyt] https://www.youtube.com/watch?v=IF7rDunGKiU[/embedyt]