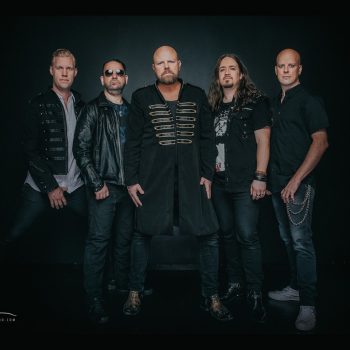 Forming In Sweden in 1996, Narnia released their debut album Awakenings in 1998 on Nuclear Blast Records. After numerous subsequent albums and a break up of the band in 2010, the band announced in 2014 that they had reunited with a new record was in the works. Narnia was celebrating the 15th anniversary of their Long Live the King album by playing live shows and decided to re-release the album as a deluxe edition.
Now under a new label let's fast forward to 2016. With what started as just the beginnings of one song has now become the masterpiece From Darkness to Light.
The Album Itself
The record shows growth from the previous studio album and gives the fans the power-Metal sound they have grown to love from Narnia. Their new album From Darkness to Light shows the band has chosen to take some risks. With an overall heavier guitar sound to the almost progressive time changes and classic double-bass metal to some atmospheric hard rock, this album seems to have something for everyone!
A Track By Track Side A
The opening track, "A Crack in the Sky" comes in like a train bearing down towards you. The main riff has more of an edge than most fans would expect from a Narnia tune. Powerful choruses and a solo that is sure to leave blisters on your fingers, it's a fantastic way to open a record.
"You Are the Air that I Breathe" follows next. With a beginning that could almost remind you of an AC/DC riff, the band comes together into a more in-your-face togetherness.  This could be easily the second single from the album! This also could be a great live track for the fans!
Coming in third is "Has the River Run Dry?" This is a mid-tempo rocker with a huge chorus and a great guitar solo that showcases some terrific talent! A very solid tune that could easily become a fan favourite in years to come!
Track number four, "The Armor of God", starts with some synthesizer then blows into some real power-metal frenzy. Fans of the band's roots will be extremely pleased with this track for that alone! With double stunning guitar solos, this could be another fan favourite.
"MNFST" is truly a scorcher! A smooth synth intro leads into one of the best metal riffs this listener has heard in a long time. This could be the heaviest song on the record. While the first half of the song is an 80s style rocker, the second half launches us into what could be a prog-metal sound. Blended with a molten hot guitar solo, this deserves the volume to be set at eleven!
Track By Track Side B
"The War that Tore the Land" starts out slow with a beautiful intro. Fans might find it similar to "Thank You" from the previous album, Narnia.  However, it still stands on its own. It features for the first time on Narnia albums, some female vocals.  This definitely breathes a fresh perspective into what is a beautiful tune.
Next, we come to "Sail On."  With what I believe is one of the best riffs on the record. This is another song that is worthy of cranking the volume knob to full, so that others can enjoy it as well, down the street! This one, however, does have a proggish sound to it, (that I don't enjoy) but Rush or Dream Theatre fans will love it!
"I Will Follow" comes in second to last. With keys and guitars starting things off like fireworks on a national holiday it leads into a surprisingly mellow chorus. Highlighting the song with an almost YES sounding solo, again a bit proggish, but still fantastic to listen too.
Rounding out the album is "From Darkness to Light" Parts 1 & 2. The beginning of this tune will probably remind Narnia Fans of "The Great Fall". It then merges into some acoustic guitars and piano and then into a sound that can only be described as some Pink Floyd sounding melodies. This tune is gloriously delightful, deep and delicious.
Psycho Thoughts
Narnia definitely continues to grow on this album without alienating its fan base at all. With its bold lyric writing, Narnia has always made their diversity work for them and it's no different here. Absolutely worth the time to listen too. It's a musical journey through the Narnia cupboard and an adventure within itself! So go out August 2nd, and pick this up. Give it an honest listen and enjoy it. It's a stellar album!
BUY THE MUSIC AMAZON.CA / AMAZON.COM
Furthermore, check out all my reviews: Trevor's Archives
Trevor "Psychoone" McDougall
Email Me at: psychoone40@hotmail.com
Band
Christian Liljegren – Vocals
CJ Grimmark – Guitars, backing vocals
Andreas "Habo" Johansson – Drums
Martin Härenstam – Keyboards
Jonatan Samuelsson – Bass, backing vocals
[embedyt] https://www.youtube.com/watch?v=P-SWNWLMfZQ[/embedyt]