I'm doubtful that many of you have heard about the band, Pendulum Of Fortune. On El Puerto Records, it's the creation of drummer Bodo Schopf. Being known from bands like Michael Schenker Group, Eloy, not to mention The Sweet. Pairing up with David Readman (Pink Cream 69, and VooDoo Circle), getting Franky R. on bass (Kingdom Come, Vandenplas) and finally guitarist Vladimir Shevyakov, Pendulum Of Fortune is born. Later Matze Erhardt, a studio, and live musician from Moscow, on guitars, joined the band and soon things were ready to go.
The Review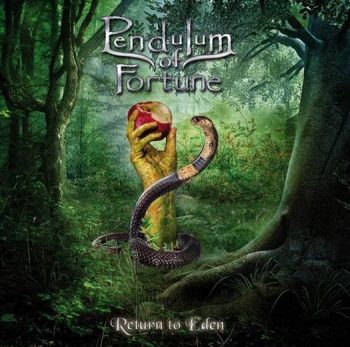 The group mainly focuses on hard rock music. Being inspired by classic rock icons such as Deep Purple and others. That's where the roots are and that's where the inspiration comes from. With the opener "Diamonds in the Rough" being a perfect beginning track to introduce themselves to the listeners of the new album.
The upbeat rocker flows into "We Stand for Rock'n'Roll". This rhythm-based tune simply exhales the spirit of rock'n'roll. Soon we are treated to a cover song that shows the roots of the band. Emerson, Lake and Palmer's, "Lucky Man" is an impassioned song that is required for such a classic.
Next up is the title track, "Return to Eden." It is absolutely another song you shouldn't press skip on. One of the more somber moments on the album, "Don't Make a Fool Out of Me", is a sentimental song that encompasses this five-piece band.
To counteract the ballads on this album is enough straight-up rock that steps forward with tunes like, "Gravy Train" and the blues-inspired, "One of a Kind". These tunes are the party anthems of the album, equipped with a positive, feel-good attitude.
Return to Eden is a fantastically well produced hard rock album, done by more than competent musicians with a long history of great music behind them. This album could be your "go to" album, for the warmer months ahead. So go ahead, grab a cold one, and lose yourself in some great music!
Peace!
BUY music: AMAZON.ca / AMAZON.com
Furthermore, check out all my reviews: Trevor's Archives

Trevor "Psychoone" McDougall
Email me at: psychoone40@hotmail.com
Tracks:
Diamond in the Rough
We Stand for Rock'n'Roll
Lucky Man
Skin and Bones
Return to Eden
Wishing Well
Never Be
Don't Make a Fool Out of Me
Broken Universe
Wings of a Dove
Gravy Train
Rockanini
One of a Kind
Bitter End