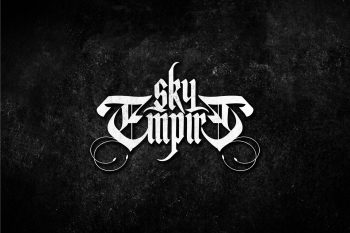 I have yet another Progressive Metal band that I need to let you know about. Releasing their debut album, The Dark Tower, which only has five tracks, but they are amazing sounding tracks! You can describe their sound a bastard child of heavy rock bands like Deep Purple, Iron Maiden, and Rush, with a touch of the modern sounds of Dream Theater and Symphony X. What band is this you may ask…well, let me introduce you to Sky Empire.
The Dark Tower album itself
"Marionette" is a short opening piece, short meaning that it comes in at seven minutes in length. The song kicks off with a slow concise finger busting riff. Almost reminding me of some of the darker tunes that Dream Theater has given us over the years. The vocals, however, are a little more in the styling of Symphony X. This track definitely shows the guitar talents of Lecutier. The solo pretty much encompasses every note I think is available to a guitar player.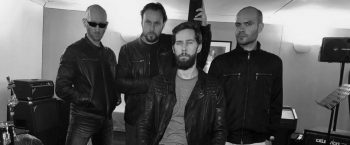 From this point, each of the remaining songs tends to grow in length, but any fan of the progressive genre shouldn't expect much less. "The Wind the Sand the Stars" clocks in close to ten minutes in pure musicality. The progressive sounds are strong and at the forefront from the beginning. Keys and guitar solo changes throughout are absolutely incredible.
The Journey Continues
"Champions of Light" comes in at over thirteen minutes. The riff, which is a nice slow and heavy sound provides us with a beautiful opening. The guitars and bass sounds play in wonderful unison. Ivanov soon belts out his Dickinson-like vocals. Then we are treated to a showcase of wonderfully mixed riffs in both bass and guitars that again show us an absolutely amazing talent. During all of this, drummer Jalabert is keeping the rhythms in check. "Sorcerer's Apprentice" is a twenty-one-minute journey. With an absolute storm of instrumental excitement, it flows into a more somber piece of piano and vocals. Lecutier's solo is a highly emotional journey. Soon however it tears it up, with another interlude instrumental piece. What a fantastic tune. As with many progressive bands, it's a real accomplishment when you can play a tune this long, and the listener simply loses track of the time that has passed by.
The title track, "The Dark Tower" finishes out the album. This opus, inspired by poet Robert Browning, and his 1855 poem Childe Roland to the Dark Tower, falls in at a whooping twenty-seven minutes in length. A solo on the keys kicks off the track. From there it slowly builds like flames gaining strength the fire grows. With a strong passion, vocalist Ivanov seems to effortlessly push his vocal ranges to inhuman lengths
Psycho-Babble
Overall with The Dark Tower, the musicianship is just simply amazing, and very strong in all the elements this band has to offer. The songs are intelligently written, and very well composed. The band manages to change directions flawlessly throughout the album without confusing the listener. So if you're looking for something that is new, and fresh to your ears, but still in its own way stays true to the Progressive/Metal sound that many love, then this album is definitely what you may be seeking! Take a chance, and take a journey to The Dark Tower. You won't regret the trip!
Raise The Hoof & Rock On!
Buy Music – Rock Company
Furthermore, check out all my reviews: Trevor's Archives
Trevor "Psychoone" McDougall
Email Me at: psychoone40@hotmail.com
[embedyt] https://www.youtube.com/watch?v=YCrmYIyNFK4[/embedyt]