Many times, listening to as much music as I do, a name from the past comes up. No, I am not rediscovering new music, (even though I do love doing that from time to time) but a name from the past comes back into the limelight, so to speak. A band reforms and decides to give their fans a treat with a new album. Many fans couldn't be more excited to get a fresh helping of new sounds from a band they have so many memories with. Spread Eagle is about to fly again and are doing so with majesty!
It's been over twenty years since the fans have heard anything new from Spread Eagle.  Although the boys did have a reunion back in 2006 and a remastered version of the debut album. Not this time, however. Ray West, Rob De Luca, Ziv Shalev, and Ric De Luca are back, and back with a ferocious new album called Subway To The Stars.
Usually, when a band does this kind of return, many fans turn into a massive bunch of critics. All spouting off on how it doesn't sound like the "Old Material". To some, this may be a fair comment. I, however, can agree with it, but also argue that it isn't 1993 anymore.  Yes, they should stay true to themselves and their loyal fan base, but come out with something fresh and current. Spread Eagle – Subway To The Stars, does just that.
The Speed Of Sound
Now, before I dove into the new CD, I thought I would put it into a playlist. A playlist that had both of their first two albums in order…adding the newest into the last part, just to hear how it flowed and found it does just that. Some of the members have changed, yes, but the sound has grown and matured. The heavy sounding riffs are still there. The assault on the drums is still present and it simply sounds great. Not every song on the new album hits home with me, but as a whole, it's a great listen.
Signing with the great Frontiers SRL Records in January 2018, the excitement grew with Spread Eagle's fan base and soon a new single appeared in May 2019 called "Sound Of Speed". Social media showed many mixed reviews on this "New Sound" that their band has released. I for one loved it. I don't think I would have wanted an album full of "Switchblade Serenade" knock offs.
Time For The Train Ride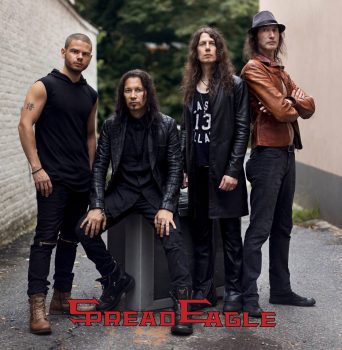 The album actually starts off with the title track, "Subway To The Stars". I found it absolutely appropriate because you hear the sounds of the train pulling up. You step in, and the ride begins. Nice heavy riffs kick us off, the vocals begin, and within moments your toe-tapping, and headbanging along with the track. Your next stop is the "29th Of February". Now, this tune has that "Different" sound I was talking about. The musicianship is great still, but it is different than what most fans would expect. I actually quite liked it. The songs ebbs and flows, but again, is mature, and not just singing about tits and ass like many bands did back in the day. The third stop on this ride is the first single, "Sound Of Speed". A tune, that anyone that could be reading this review probably has already heard, and formed their own opinion about. I liked it…' Nuff said.
The Ride Carries On
"Dead Air" is track four. A steady sounding guitar sound and a very mature sounding vocal cut exists on this one. Again, not what most S.E. fans would expect, but a stellar solo and great writing take this one to heights I like. "Grand Scam" follows. I am still on the fence about exactly what this one is about. Recently released as the album's second official single, I have to be impressed by the speed, and playing on this one.  "More Wolf Than Lamb" and "Cut Through" are another two terrific tracks that showcase the talents of the band members, and prove to the naysayers that these guys haven't rested on their laurels while they have been away from the music scene.
With the subway ride more than half over, you get "Little Serpentina". This one is a track, that I can listen to, but it just doesn't resonate with me. It's not bad, but it's just to alt sounding to me and that just doesn't get me moving. It does have some good playing and the vocals are strong, but hey…you cannot love them all. "Antisocial Butterfly" gets the feet moving again though. A tidy little riff to start you off and continues throughout. The drums constantly pounding along, and the vocals all blend well to form a fantastic tune. Another great and very well written solo ties it all in. Great track in my opinion.
Final Stop
Throughout the album, you do get to hear the clever addition of the loudspeakers of the subway, warning you of the doors and which stop you're at. I love the thought of the band putting this together and the possibilities that could have been inserted throughout. "Gutter Rhymes For Valentines" falls into stop 10 on this ride. A bit of a more slower pace, and a lot more melodic hard rock sounding. This is another tune, that at certain times I've pressed skip on. It does still have a good solo and some well-composed music but it's just missing something to this listener's ear.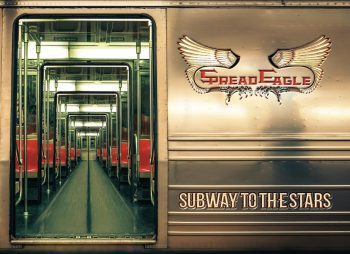 Finishing up the trip on Spread Eagle – Subway To The Stars is "Solitaire". A ballad type of song, with a couple of beautiful acoustic guitars and a vocal performance to take the listener to a whole new level. I just have one gripe, however. I've stated before that I don't like albums that end with a ballad. Maybe that's just me. I don't take away from the song…It's great, but just not at the end. Would I skip the tune…Hell no! It's a great track!
Psycho Thoughts
Spread Eagle may have been away for quite some time, yes some of the guys have been replaced and still in the "industry" but after listening to this album, they haven't lost a single thing as far as their talents go. It's a welcome addition to my Spread Eagle album collection and to my daily playlist. I would have to definitely give this one an 8 out of ten.  Only losing points because of placing the ballad at the end, and "Little Serpentina". Overall, however, a triumphant return and hopefully not the last to come!
Rock On!
Buy Spread Eagle – Subway to the Stars – AMAZON.COM / AMAZON.CA
Furthermore, check out all my reviews: Trevor's Archives
Trevor "Psychoone" McDougall
Email Me at: psychoone40@hotmail.com