Seeing that Finnish band Battle Beast signed on to tour North America with Kamelot and Sonata Arctica both Shawn and I were interested. To be honest, my band out of those three is the stage setters of Battle Beast. Personally, I'm not much into Kamelot or Sonata Arctica. But is it worth the ticket cost to see only the opening band? Sure is and wouldn't be the first time I've pulled such a maneuver! Funny, a lot of concert-goers are always about set times so they can skip openers and come for the main headliners…but I do enjoy going against the grain in life.
But wait, what's this? On an off day during the tour stops between Montreal and Toronto, Battle Beast booked their own and first-ever Canadian headline show in Ottawa. Well, that's only a 4.5hr drive! Fire up the 'Vette Irwin, you're driving us to Ottawa! Oh, and book us a room too, two beds!
Excited for the first-ever Battle Beast Canadian headline set we took off early and for a leisurely drive from Toronto to Ottawa. Pulling into town early we set up and relaxed at our AirBNB ahead of meeting friends at The Koven Bar for a pre-show dinner and drinks. Outside the venue, with doors not yet open to the public, we found ourselves first in line. While waiting James Delbridge of Lycanthro picked me off and said hello, chatting for a few minutes and thanking us for making the long journey up. Once inside Mavericks, I ran into Kirk from Infrared. I reviewed their latest EP, Back to the Warehouse on the CGCM website a couple of months back. Great to meet in person and I picked up the band's first two CDs as well.
SCEPTER
The first of this four-band bill tonight was Scepter. Completely unknown to us, their start was slightly rocky as there was a bass guitar tech issue. But it was sorted quickly and Scepter was underway. And they blew me away! Perhaps with no expectations, it was easy to exceed and Scepter did just that.
Featuring a NWOBHM output and some excellent stage banter between French-speaking guitarist and the very British singer who doesn't speak French! I noticed that the vocalist did an excellent job at stepping out of the way and into the back areas of the stage, making way for guitarists to take center on the commodity of floor space. After announcing this was the vocalist's final gig with Scepter to return home to the UK they blasted through a "heavied up" and rather an awesome version of Europe's "Final Countdown". Great gig and I look forward to their EP release to hear these original tunes again.
LYCANTHRO
Lycanthro shouldn't need much of an introduction as they have been spoken about before through Ottawa trips to concert gigs. In fact, CGCM Podcast co-host Wallygator Norton wrote a review for Lycanthro – Lycanthro, the EP they released in 2017 and for Lycanthro – Four Horsemen of the Apocalypse EP from 2018. Featuring only a four-song setlist this evening I knew we were in for some extended versions.
Lycanthro has some new members since my last viewing of them and James took a moment to introduce them ahead of the closeout song. He also took a moment to thank Kelsey (Scepter singer) as a great friend and member of the Ottawa scene. "Crucible" wrapped up the set showcasing the very same Kelsey adorned in a wolf's mask and gloves looking like claws. Certainly, it provided a great visual as Kelsey slunk around the stage in the mask.
INFRARED
After reviewing the Back to the Warehouse EP, it's been in my phone rotation since. "Meet My Standards" is such a great thrashing track. It's been heard on more than one occasion during the early morning bus commutes to work.
I could see the setlist on the stage. The third track was listed as "Eat My Sandwich" eliciting a chuckle from our little group. Launching off with "The Demagogue" followed by "Some Kind of Disease", it became evident that "Eat My Sandwich" was indeed "Meet My Standards"! And as I suspected, it went down awesomely in a live setting. Even without the fart sound that starts off the CD! Also in the set were "The Fallen", "No Peace" and closing with "All in Favour" (on the setlist as "Flavour"). The band also gave away a guitar on stage to aspiring young musicians between "The Fallen" and "No Peace".
BATTLE BEAST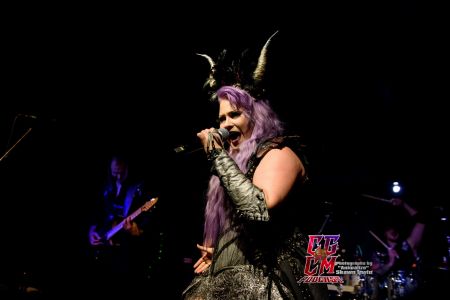 Having discovered and witnessed Battle Beast in 2015 thanks to Sweden Rock Festival, I again had the pleasure of them at SRF in 2018 as well. Their energy on stage is incredible and I couldn't help but marvel at the fact that from seeing them on a large stage in front of thousands, I will now see them on a small club stage in front of hundreds. In 2018 at Sweden Rock, Shawn was also with me for his first time seeing Battle Beast. Similarly, we both agreed that tonight would be a special and intimate show for us.
A total of sixteen songs could be seen on the setlist taped to the stage for this first-ever headline gig in Canada. Throwing some major support behind their latest release, No More Hollywood Endings, only four of the 13 tracks from that were not represented. Five appeared off 2017's Bringer of Pain, leaving two off 2013's Battle Beast. Curiously, nothing included from 2015's Unholy Savior. I thought for sure we would get "I Want the World…And Everything In It", but there's only so much time in a set.
Vocalist Noora Louhimo was a veritable ball of energy and above all, turned in a wicked vocal performance. The third song of the set, "Straight To The Heart" she dedicated to the audience on this first-time event. The small stage did not hamper the band one bit! While the whole show was incredible, my faves were "Black Ninja" and "Out of Control". But I do love that self-titled release.
After the Set
Battle Beast flew off the stage at the conclusion and right outside. After a few moments of presumably freshening up, the entire band returned to the club to pose for photos and meet fans. Being a member down for this North American Tour as The Keystar Steel Lord Janne takes some time off for "positive personal reasons" did nothing to impede performance! All in all a wicked show. Finally, thanks to Battle Beast for making the four and a half hour journey worth every moment!
Cheers,