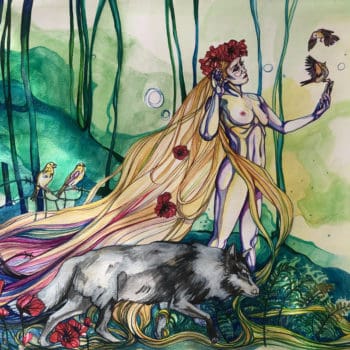 All Important Background:
Arabs In Aspic cite their influences as "60s and 70s" and are partially named after a King Crimson album so it gives a good clue as to what sort of music they perform. There is certainly plenty of both Genesis and Pink Floyd in what they do, in fact, I would say it is kind of a mix of the acoustic guitars of early Genesis and the keyboard and spacey sounds of Floyd merged together rather beautifully. It might not be the most original of music but when music is composed, arranged and performed as well as this then it almost seems a minor quibble. Anyone who feels that they want to hear some new songs with that kind of vibe going on should pay attention and probably go purchase this to go with their collection! The band hail from Norway (not sure what is going on in the water there but they seem to have plenty of great progressive music going on as well as of course the death metal that it is almost famous for) and Madness And Magic is their sixth album in 16 years. Two of the band Jostein Smeby (guitar/vocals) and Eskil Nyhus (drums/cymbals) go back to the first album with the former an actual founding member. The band is completed by Stig Jorgensen (organs/vocals) and Erik Paulsen (bass/vocals) who joined from the second album and Allesandro G Elide (percussion/gongs) who is most recent to join. From that information, you should be able to glean that there are plenty of vocal harmonies and percussive work going on here. The album is a loose concept about modern media and how it influences both adults and children in this digital age.
The Songs In More Detail:
"I Vow To Thee My Screen" opens the album. The first thing to notice is how atmospheric it is. There are also hints of Eloy and Ayreon in the slow build-up along with the aforementioned Floyd. There is a strong hint of "Welcome To The Machine" at points. Lyrically it is about love of electronics with lines like "the love that stands the test, I lay upon your alter" showing the adoration of or addiction to a screen. It is quite chilled, very much headphone music. Following straight on is "Lullaby For Modern Kids Part 1" which fittingly has a very childlike almost musical box (the toy not the Genesis song) sound, some which seems to be played backward giving it an evil edge or sound to it. In fact it had that early Alice Cooper eeriness going on whilst having a sense of playfulness. It seems to be mostly about addiction to video games with the vocals being sung in the same menace of the child catcher in Chitty Chitty Bang Bang! The offer of fun, good times and sweet things only to end up trapped in a completely different world. I think this is my personal favourite track due to how entertaining it is, the manic vocals, the Gilmour-esque solo and the glorious riff that repeats. Like many of the songs the percussion sounds are different and interesting and unlike any other prog band around just now (that I have heard). Plenty going on and on each listen I seem to spot something new. Very tasty song!
"Lullaby For Modern Kids Part 2" is a shorter piece with lyrics about shooting folks through the head to very melodic guitar work.  The line saying "turned on by the bloodshed" sounds more ominous due to the music accompanying it! "High Tech Parent" is a more funky or jazzy upbeat number with a fun call and reply section. "Whatcha goin' do about it?" being answered by "I don't know". The worry about lack of real social interaction as we live in a computer world. This features organ quite heavily hinting at Purple or Uriah Heep although with more jazz! The title track "Madness And Magic" seems to reference David Bowie with the use of "Aladdin Sane" and has the wonderful lyric line of "you're in bed with a nun" which makes me laugh every time I hear it. The opening acoustic guitar part reminded me a little of Alex Lifeson. The song seems to be about being trapped in a game with no way out and the vocals at points sound growled (not in a death metal way) as he desperately tries to get out. It is another quirky track.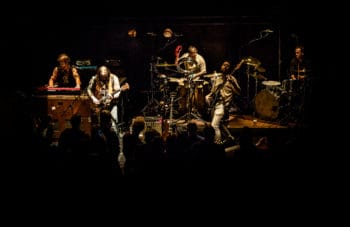 The final track is the longest at over 16 minutes. "Heaven In Your Eye" has a very early Genesis style opening (definite hints I would say of "Supper's Ready") before going quite poppy. Some of the vocal harmonies here are excellent. As befitting a long track it changes as it goes along.  The riff and organ work on the "heaven is in your eye" chorus is lovely and sounds so good I felt I wanted it go on longer! There is an even better riff on the "you wonder why they are laughing at me now" before it drops into something very Eastern sounding. Quite hypnotic yet disturbing with some lovely drum fills. It is music to charm snakes out of wicker baskets at this point!  There is also plenty guitar soloing before the heavy riff comes back around. It continues to float between 2 styles for a bit and even more Hackett guitar stylings. It eventually ends with electronic sounds like a heartbeat with them floating or flying between speakers/headphones.
In Conclusion:
This is classic prog music played with style and playfulness with a huge amount of melody. Yes there are some meaty riffs but the emphasis is on tunefulness with lots of earworms. Each time I listen I do find new things to enjoy due to the musicianship and production which allows every little bit of percussion to be heard and enjoyed. If you are someone who thinks they "don't make music like they used to" then be prepared to be proved wrong. They certainly do in Norway! Get the headphones on, relax back with a beer and be transported through the digital age whilst going back to the 60s and 70s, truly Madness And Magic!
Out on June 12 on Karisma Records
BUY: AMAZON.ca / AMAZON.com / AMAZON.co.uk
Also, find more of my CGCM reviews here: Tom Cornell
Tom Cornell
Email Me at: Tom Cornell
[embedyt] https://www.youtube.com/watch?v=KbymWd_wQIM[/embedyt]