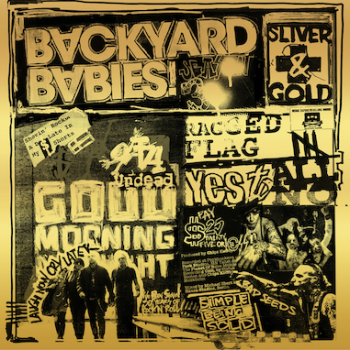 In 2019, BACKYARD BABIES – one of Sweden's longest-running and most influential hard rock bands – celebrate their 30th anniversary with the release of their eighth studio album, Sliver & Gold, which will be issued in North America on March 15 via M-Theory Audio. The record – which was produced by the legendary Chips Kiesbye (The Hellacopters, Graveyard, Michael Monroe) – is now available for pre-order on white vinyl (limited-edition 300 copies) and CD through the links below.
In recent weeks, BACKYARD BABIES previewed two new tracks from the record. Described by singer/guitarist Nicke Borg as their "most intense and furious album to date". The anthemic "Shovin' Rocks" and album opener "Good Morning Midnight," both seen below. Sliver & Gold (which is not a typo, by the way) contains eight additional sizzling new songs following the exact same recipe that made BACKYARD BABIES one of the most consistent rock bands of our time: a perfect balance between sleazy, punky, all-out party rock on one hand, and decidedly mature, thoroughly melancholic tunes on the other.
BACKYARD BABIES – Sliver & Gold track listing:
1. Good Morning Midnight
2. Simple Being Sold
3. Shovin' Rocks
4. Ragged Flag
5. Yes To All No
6. Bad Seeds
7. 44 Undead
8. Sliver And Gold
9. A Day Late In My Dollar Shorts
10. Laugh Now Cry Later
Physical copies of Sliver & Gold will also include five bonus acoustic versions of songs from the group's storied past – "Th1rt3en or Nothing," "A Song For The Outcast," "Highlights," "Star War" and "Nomadic."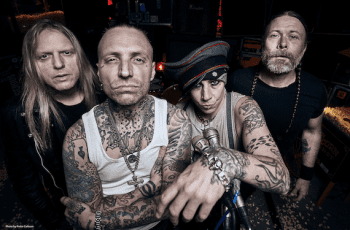 "After all these years touring and making music together, we still love what we do, and still we find new ways musically," says guitarist Dregen. "Sliver & Gold sounds like classic BACKYARD BABIES, but with a total new set of spices. And they are damn hot!"
Over the past three decades, BACKYARD BABIES – who have won two Grammys in Sweden, where each of the group's past five records have reached the Top 3 of the country's album charts (including two #1's) – have toured the world with the likes of Guns N' Roses, AC/DC, Motorhead, Social Distortion, Velvet Revolver and Alice Cooper. Classic releases such as Total 13, Making Enemies Is Good and Stockholm Syndrome made the group one of sleaze rock's most beloved acts around the globe, but Sliver & Gold shows that the band is still a raucous force to be reckoned with.
BACKYARD BABIES is:
Nicke Borg – Vocals, Guitar
Dregen – Guitar
Johan Blomquist – Bass
Peder Carlsson – Drums
BUY music: AMAZON.ca / AMAZON.com
Cheers,
The Meister
CGCM Podcast / Meister on Facebook / Meister on Instagram / Meister on Twitter / Meister's Email
.