This year CGCM decided to include EP (previously they were excluded from Top Ten Albums). Live albums and re-records were still disqualified, new music only for Best of Year. We also instigated a (highly complex🤣 – 1 point for 10th place through to 10 points for 1st place) rating system throughout all individual lists to culminate a Collective Best of 2020.
You can find the Collective List as well as all our Best of 2020 content including contributors' individual lists, podcasts and radio DJ shows here: CGCM's Best of 2020 (Year in Review)
Best of 2020 – Rich "The Meister" Dillon (Radio DJ/Podcast Co-Host/Writer) 🇨🇦
Always a monumental task, yet at the same time so exciting and invigorating. Choosing one's favourite albums of the year. This round, even with the pandemic halting life as we know it and providing much ample extra time for listening, I have had much less opportunity than a normal year. I blame CGCM Radio. I never thought I'd ever listen to the radio (satellite nor terrestrial) ever again. But I must file out massive accolades to all at CGCM for helping make CGCM Rock Radio – What Rock Radio Should Be.
And so, I found myself starting some heavy prep at the end of November. Garnering info on albums released, making lists, getting recommendations and most of all listening to some great tunes. For this year's list, I considered a whopping 450+ albums. I took a "listen" as 3 full songs and by that point, if my pants didn't tighten with a massive rock boner, I moved on. Some went onto a "retry list", some went to "no chance", and still others to a "contender". Maybe a few of these would have fared better if I'd been able to live with them longer. Play them more often. But overall I think I did more (or at least tracked better) research and listening than in previous year's top lists.
These are my favourite of 2020. You may disagree and that's cool, but for my ears, these were the most boner inducing albums.
#10 – LADY BEAST – The Vulture's Amulet

🇺🇸
I realize that I have perhaps become biased where it concerns Lady Beast. I really do love the band's music. But they are also amazing people as well, and proud to say, my friends. That friendship came out of my love for their music originally. It's now all melded together and I fully believe they could record a record of their bathroom noises and I would put it as my number one of the year. That's biased. I tried to separate better for this exercise and I said I was not going to consider The Vulture's Amulet for my best of the year because of that.
I have no choice but to include it. It's a great album. Since its release, I listened to it a helluva lot! I put it on to cheer me up when I'm having a rough day. I put it on during a great day and rock out happily, fists high in the air (even if I'm on the bus to work…yes, I get stared at a lot). And that's the power of music and The Vulture's Amulet, based on that should probably even be higher in this list.
CGCM Album Review: Lady Beast – The Vulture's Amulet by The Meister.
BUY: AMAZON.com / AMAZON.co.uk
[embedyt] https://www.youtube.com/watch?v=-pLF3k7KrSs[/embedyt]
#09 – THE WILD – Still Believe in Rock and Roll

🇨🇦
From B.C. Canada, The Wild! are an incredible feat to witness on stage. Be it on a large scale such as at Sweden Rock Festival where they slapped the early morning audience into wakefulness or in a small sweaty club such as The Bovine Sex Club in Toronto earlier this year. And they have the music to back it up as well. They are real rock and roll, no frills, no bells, no gimmicks, just straight-ahead punch to the gut hard rock! Links to articles on both can be found on this website.
The whole slab of tunes is awesome, leading out with the raucous "Bad News" through to the closer "Gasoline" but "Goin' To Hell" is my favourite cut.
CGCM Album Review: The Wild! – Still Believe In Rock & Roll by The Meister
BUY Still Believe in Rock and Roll: Official Store
[embedyt] https://www.youtube.com/watch?v=Rgaht-i66OQ[/embedyt]
#08 – HIGHRIDE – Excellence & Decadence

🇸🇪
I don't know a ton about Highride really other than they hail from Stockholm, Sweden. According to their Facebook page, they are a "unique blend of Punk, Sleaze and Hard Rock". They have at least one other release in 2013's Highride self-titled. I don't recall that album, so I assume it didn't leave an impression on me, but it's in my library. Excellence & Decadence however took me straight away with "Superstarblind" and maintains pace throughout. A welcome listen on many lengthy bus ride to work commutes.
Top choices of tracks include "Superstarblind", "A Good Day (To Die)" and "No Plan B".
OFFICIAL WEBSITE / FACEBOOK / INSTAGRAM
BUY: AMAZON.com / AMAZON.co.uk
[embedyt] https://www.youtube.com/watch?v=bTaCp93hSWg[/embedyt]
#07 – CATALANO – Nightfighter

🇦🇺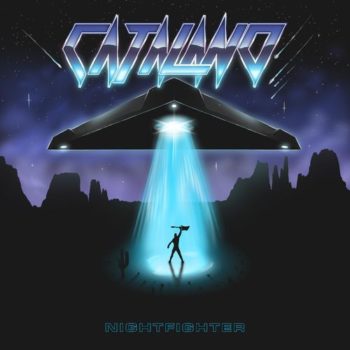 I had no idea what to expect here and it wasn't until December that I would get to Catalano's Nightfighter. And mostly I only got to it as I saw a fellow CGCMer considering placing it in his best of 2020! Thanks, Brian Ronald, this may have slipped by otherwise.
The opening track "Livin' It Up" had me perched on the edge of my seat before we were 30 seconds in. Aside from one mid-tempo affair that still rocks, the album doesn't let up from there. Loaded with juicy riffs and snarling raspy vocals all packaged with melodic sing-along ability, fists high in concert here kids!
BUY: AMAZON.com / AMAZON.co.uk
[embedyt] https://www.youtube.com/watch?v=Z0SJn_mBIiM[/embedyt]
#06 – H.E.A.T – II

🇸🇪
Finding H.e.a.t some years back on the Address the Nation album I became hooked. I took pride in sorting out friends who were unsure of their abilities. Frontman Erik Gronwall is simply a magically mesmerizing performer. He sells every show. I enjoy the earlier outputs of the band with original singer Kenny Leckremo who has now stepped in once again as Erik goes on to other ventures, but I'm dubious of his ability to match the stage presence.
Only one ballad to skip on this album and everything else rocks with my favourite being "Dangerous Ground". I didn't gel too well with 2017's Into The Unknown, but H.e.a.t return to crushing form here…just not sure why the album is titled II.
CGCM Album Review: H.E.A.T – II by Trevor "Psychoone" McDougall
BUY: AMAZON.ca / AMAZON.com / AMAZON.co.uk
[embedyt] https://www.youtube.com/watch?v=b6d8xJqY2uA[/embedyt]
#05 –

SHAKRA – Mad World

🇨🇭
Swiss band Shakra consistently issue top-notch thumping Hard Rock. The band formed in the late '90s with a back catalogue of twelve albums. I was fortunate to see them twice perform setting the stage for Krokus and Gotthard in Switzerland a couple of years back.
Foot tapping, fist-raising anthems are all over this album as expected, all led by the distinctive vocal tones of Mark Fox.  Eleven of the 12 tracks exhibit this style, with one blemish ballad. Thankfully Shakra smartly tacked the blemish on at the end for easy skipability. Tracks to check out: "Fireline", "Too Much Is Not Enough", "Mad World", "I Still Rock", and "Fake News"
CGCM Album Review: SHAKRA – Mad World by Tom Cornell
BUY: AMAZON.ca / AMAZON.com / AMAZON.co.uk
[embedyt] https://www.youtube.com/watch?v=Jk9G3VkJG9Q[/embedyt]
#04 – LACI VIOLETT – Laci Violett

🇺🇸
Out of the San Francisco Bay Area comes a fine collection of sleaze/glam anthems courtesy of Laci Violett and their debut self-titled. The hooks on this one dug in deep before the initial listen of the first cut was complete. The familiar (especially for someone who had hair and used the product a lot in days of youth) sound of an aerosol hairspray can greet the listener. This quickly erupts in "Hairspray Running Low", exhibiting an infectious, catchy groove that keeps sets the tone of the release. That same groove follows throughout the eight tracks. Track 9 is a, frankly, pointless and annoyingly useless "Outro" that thankfully at only 0:46 doesn't detract from the rest of the awesomeness.
OFFICIAL WEBSITE / FACEBOOK / INSTAGRAM / TWITTER
BUY: AMAZON.ca / AMAZON.com / AMAZON.co.uk
[embedyt] https://www.youtube.com/watch?v=2vTsMvFQdiY[/embedyt]
#03 – OZ – Forced Commandments

🇫🇮
Finland delivers! Much like my number one album, OZ reformed and issued their first album of new material after 31 years back in 2017. I then saw them at Sweden Rock and they were overly impressive on stage. This year they offered up Forced Commandments, a slab of hard-hitting metal loaded with rhythm and melody.
My dislike for intros and outros is softened here with this one attached to the opening track "Goin' Down" serving as a perfect lead-in. With "Goin' Down" as my favourite, others to spin are "Switchblade Alley", and "Liar".
CGCM Album review: OZ – Forced Commandments by Sparky
OFFICIAL WEBSITE / FACEBOOK / TWITTER
BUY: AMAZON.ca / AMAZON.com / AMAZON.co.uk
[embedyt] https://www.youtube.com/watch?v=FzHsHtgRsMM[/embedyt]
#02 –

TOKYO BLADE – Dark Revolution

🇬🇧
I knew the name and had heard a song here or there maybe prior to that, but these guys were impressive a couple of years ago at Brofest Festival in UK. My best of 2018 list saw Tokyo Blade's Unbroken album taking #1 and nearly impossible to follow up.
The classic NWOBHM band strikes back with Dark Revolution. making a valiant effort here, but it's just slightly below Unbroken for my ears. Still awarded the second spot in my 2020 list is nothing to sneeze at! Top cuts to check out: "Story of a Nobody" and "Dark Revolution".
CGCM Album review Tokyo Blade – Dark Revolution by Sparky
BUY: AMAZON.ca / AMAZON.com / AMAZON.co.uk
[embedyt] https://www.youtube.com/watch?v=gcCg2RHxKgc[/embedyt]
#01 –

TORCH – Re-Ignite

🇸🇪
Another band I was fortunate to see on stage thanks to Sweden Rock Festival. I was not super versed in Torch's material prior to that gig at SRF. They were awesome and collecting Electrikiss on vinyl (actually purchased off Diemonds frontwoman Priya Panda) was….electrifying!

The band's first release in something like 35 years! From the first sounds of a needle softly touching down onto vinyl and the explosion of the beginning riffs of "Knuckle Duster", Torch's Re-Ignited had me straight away. The energy and pace keep up throughout the nine album tracks just the way The Meister likes…with no ballad flaccidity!
BUY: AMAZON.ca / AMAZON.com / AMAZON.co.uk
[embedyt] https://www.youtube.com/watch?v=obISJnct8iA[/embedyt]
Cheers,
The Meister
Find more of my album reviews here: Meister Music
CGCM Podcast / Meister on Facebook / Meister on Instagram / Meister on Twitter / Meister's Email
Don't forget to take a look at all our Best of 2020 content including the COLLECTIVE BEST ALBUMS LIST (culminated via the ratings in the individual lists), all our contributors' individual best lists, podcast episodes and Radio DJ shows CGCM's Best of 2020 (Year in Review)