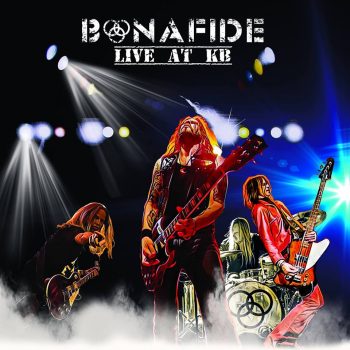 Many CGCM Podcast listeners received their Bonafide introduction as we featured their track "50/50" on our 50th Anniversary Episode. Touted as one of Sweden's hardest working bands, Bonafide has six studio albums in their catalogue. And on March 15, 2019, they unleash their first live record. Delivered via their own record label, BONAFIDE – Live at KB is available for pre-order. Here at CGCM headquarters, we've received an advance listen…and wowsers!
BONAFIDE (Short band history)
Bonafide was put together by singer/guitarist Pontus Snibb in 2006 in Malmö. Wanting a bit of a change up from the blues and rock he'd been playing with various bands, Snibb went in a classic hard rock vein. The early recording, Bonafide, made in Snibb's home studio caught the attention of the then head of Sweden Rock Festival resulting in Bonafide delivering two live shows at the 2008 event. That early incarnation featured Micke Nilsson (bass), Mikael Fässberg (guitar) and Sticky Bomb (drums). The sophomore release, Something's Dripping arrived in 2009.
Niklas Matsson (Raging Slab/Backdraft) stepped in for Sticky Bomb by 2010 and 2011 saw the Fill Your Head With Rock EP hit shelves. The song "Fill Your Head With Rock", originally showing on Something's Dripping, gained UK airplay and along with Hard Rock Hell performances led to a Bonafide UK breakthrough. Unless I'm remembering incorrectly, the track was also featured at Sweden Rock 2012, my first SRF. The theme of the Festival that year was "Fill Your Head With Rock" and several bands created compositions with that title for the event.
In 2011 Micke Nilsson left and Bonafide inducted Martin Ekelund into the fold. The third full-length, Ultimate Rebel, surfaced in 2012, Bombo in 2013, Denim Devils in 2015 and Flames in 2017.
BONAFIDE – Live at KB (Album Review)
We fade in with some audience applause followed by the wrangling beginning riffs of "Dirt Bound". The swaggering twangy guitar gives way to the drumstick clacking symbals time count before bursting into a thunderous pounding drum beat. This starter song to 2009's Something's Dripping begins the Bonafide live show.
For the next 45 minutes or so the listener is swallowed into their own imaginings of being at the KB, whether they actually were or not! You can actually smell the sweat. Taste the beer. Feel the pushing surge of the crowd around you as you test the limits of your ribcage against the steel crowd barrier at stage front.
Among the many highlights is "Bottle of Jack" off Flames. The up-tempo raucous anthem literally had me raising my fist by the first chorus and shouting "Bottle of Jack"! Before long I was out of my seat with the air guitar ripping, glad my family wasn't home! Great energy pumping tune. And man, these guys sound so tight to me. If I the crowd noise wasn't there you wouldn't know it was live!
The live portion wraps up expectedly with "Fill Your Head With Rock". It's easy to see why this hard-driving anthem resonated so well with audiences. And here, like everything else on Live at KB, Bonafide deliver it near flawlessly. I can just feel the crowd during the sing-along portion and catch myself doing just that too.
And it's not over just yet! The Bonafide – Live At KB CD version includes four bonus tracks.
The PR states: "No overdubs, no editing, no nothing – just pure joy!" Fuck yeah, it is! I need to experience this live…and soon. What were those tour dates again? Check below.
Release date: March 15, 2019.
BONAFIDE – Live at KB (Swedish Tour Dates)
Bonafide and E-Management and booking proudly present the Swedish tour dates for Live At KB – the brand new live album that's released on March 15th!
And where better to start the tour… than at KB, i.e. Kulturbolaget in Malmö? Check out the tour dates below! The Meister himself may just surface at the Västerås gig!
15/3 – KB, Malmö
16/3 – Rockbåten M/S Harmony, Helsingborg
22/3 – Harry B James, Stockholm
23/3 – Bomber Bar Motala
29/3 – Sticky Fingers // Göteborg
30/3 – Restaurang Farozon, Hässleholm
6/4 – Club Rockers, Västerås
BUY: Amazon.com
Cheers,
The Meister
CGCM Podcast / Meister on Facebook / Meister on Instagram / Meister on Twitter / Meister's Email
[embedyt] https://www.youtube.com/watch?v=XBlxSwMkzEQ[/embedyt]