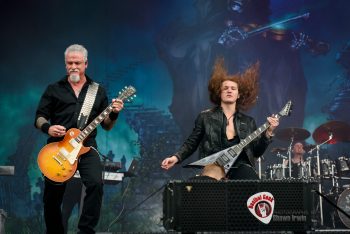 One of the most talked-about power metal projects ever was formed in 1998 by singer Hansi Kürsch (Blind Guardian) and guitarist Jon Schaffer (Iced Earth). After two lauded albums, Demons & Wizards (2000) and Touched by the Crimson King (2005), the project was put on ice indefinitely, since both main men were so busy. But in 2017 Schaffer announced that he was writing another Demons & Wizards album, and the summer of 2018 fans were overjoyed to hear that in 2019, the band will play live for the first time since 2000. At Wacken Open Air, ProgPower – and now, Sweden Rock Festival. (from Swedenrock.com). DEMONS & WIZARDS – Sweden Rock 2019.
Check out all of Shawn's galleries from Wednesday, June 5, at Sweden Rock 2019: DEMON / DYNAZTY / GATHERING OF KINGS / JAMES HOLKWORTH / JOE LYNN TURNER / OZ / SKID ROW
Check out all of Shawn's galleries from Thursday, June 6, at Sweden Rock 2019: A.C.T / AMON AMARTH / ARCH ENEMY / BLAZE BAYLEY / DEADLAND RITUAL / DEF LEPPARD / KROKUS / POWERWOLF / SEVENTH WONDER / SLAYER / TENACIOUS D / THE WILD!
Check out all of Shawn's galleries from Friday, June 7, at Sweden Rock 2019: AXEL RUDI PELL / BURNING WITCHES / DISTURBED / MAGNUM / NIGHT FLIGHT ORCHESTRA / THE QUILL / WITCHFYNDE / ULI JON ROTH / ZZ TOP
Check out all of Shawn's galleries from Saturday, June 8, at Sweden Rock 2019: BEAST IN BLACK / GREEN JELLŸ /
And see all of the CGCM/Decibel Geek Sweden Rock 2019 coverage through this link: Sweden Rock 2019
Shawn's Gallery of DEMONS & WIZARDS