As unique as you can get in rock music, Gypsy Pistoleros mash-up flamenco, rumba, glam, punk, sleaze, and even western film score styles into a hell of an engrossing album. Each song is a story and fits into the overall epic. I admit, I haven't pieced it all together yet and can't tell if this is a thematic album or a concept album—that mystery is part of what makes it great.
In their presser, Gypsy Pistoleros include this: "Gypsy Pistoleros may be best described as being the ideal house band for the fictitious Titty Twister bar of Rodriguez's From Dusk Til Dawn." I can totally see it, but I actually hear more inspiration from Sergio Leone. I'd call it "Spaghetti Rock" in the same way Leone's westerns earned their unique Spaghetti Western tag. I'd love to see Gypsy Lee Pistolero leverage that acting background and put together a stage production. Just an idea 😉.
To me, The Mescalito Vampires plays out the story of a few outlaw pistoleros living a violent life on the run. I don't know if it was intentional or not, but for the most part, the songs fall into acts, kind of like a play. First, the band sets the scene, then they tell a few stories, and finally, we learn more about specific characters.
Act 1: Setting the Scene
A phone call kicks off things with some rather vague directions to a town called Nowhere. "Lost in a Town Called Nowhere" is everything that makes this album a standout: Kris Jones' trumpet, great guitars, and a soaring chorus. The song clearly lays out the setting for the album, somewhere south of the border and not on any map.
"Viva la Revolution, Viva Zapata" is another upbeat rocker that further sets the scene. The influence of the great composer Ennio Morricone, especially his compositions for all of Sergio Leone's Spaghetti Westerns, permeates this one.
Turning a classic on its head, "Welcome To The Hotel De La Muerta" adds a completely new spin on "Hotel California." It's not a cover, but a reimagining and kicks much ass. With the Pistoleros, the hotel is even more menacing than The Eagles California version.
Act 2: The Stories
"Roses, Gallows and the Wild Preachers Daughter" kicks off the section of the album I think of as the stories. It's a tragic, punked-up, mariachi love song. In case there was any doubt that this album is full of tragedy, you can abandon it here.
But in the tragedies, you can find more celebrations of life, like in "The Forsaken". Fully embracing the flamenco side of the Pistoleros, it sounds like a street party in old Mexico. If, of course, the band at the street party kicks it up several notches and breaks out a melodic rock banger before it's all over.
Act 3: The Outlaws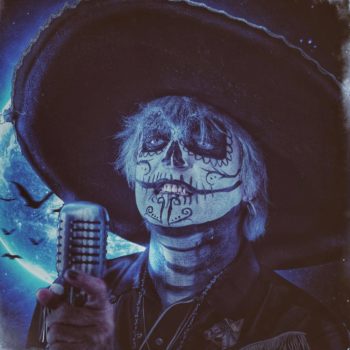 Spaghetti Westerns aren't all shootouts and bar fights, Gypsy Pistoleros can slow things down. "The Name is Django" is a slow, sad ballad that turns into a celebratory rocker. It also introduces a group of songs about outlaws and the one thing that ties them together, the tragedy of the gunslinger.  In "Gonna Die With a Gun In My Hand" we see that all of the characters who live by the bullet will most certainly meet their end with a gun in their hand.
Final Thoughts
I don't know if I got the story right, but an album like The Mescalito Vampires is definitely open to interpretation. Regardless of how you view it, it's a fantastic album that succeeds at being both a great album as a whole, but also filled with individual classics that stand alone. Thinking of an album like that, Operation: Mindcrime comes to mind as the standard.
It's also extremely accessible and fun. You could absolutely play this at a Latin-inspired get-together: have a fiesta, celebrate Día de Los Muertos, honour Cinco de Mayo, celebrate Charo's birthday. Just find an excuse to play this album through.
BUY:  OFF YER ROCKA / CARNIVAL RECORDS
WEBSITE / FACEBOOK / INSTAGRAM / TWITTER
Also, find more of my CGCM reviews here: Dave Wilks
Dave Wilks
Check out the videos:
Lost In A Town Called Nowhere
"Cool video for sure!" – Glen Matlock (The Sex Pistols, etc)http://www.gypsypistoleros.com/ Gypsy Pistoleros may be best described as being the ideal house b…
The Mescalito Vampires (Welcome To The Hotel De La Muerto)
Just when you thought it was safe to go out? The Swashbuckling Renegade Flamenco Rock RumbaPunk n Roll pioneers Gypsy Pistoleros release their debut single f…
The Name's Django
Heavy Rocka Recordings are proud to announce the newest members of The Rocka Family…Gypsy Pistoleros !! There's plenty of exciting news to share soon, unti…