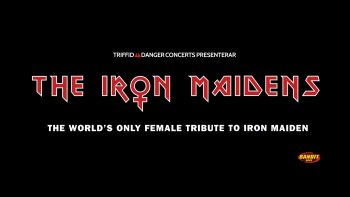 English Heavy Metal band Iron Maiden began in the mid-'70s. They attained success in the 80s and were leading pioneers in the NWOBHM movement. In the year 2001 the Iron Maiden tribute band The Iron Maidens was born. As the World's Only Female Tribute to Iron Maiden, The Iron Maidens dazzle fans with sheer talent with a feminine touch according to their FB bio.
The Iron Maidens cover Iron Maiden material from all eras of the band's career, encompassing the band's biggest hits as well as fan favorites. The stage show includes appearances by Maiden mascot Eddie, the Grim Reaper, the Devil and more. (from FB). In 2012 guitarist Nikki Stringfield became a touring member and in 2015 the permanent Davina Murray (play on actual Maiden guitarist Dave Murray's name).

I
saw her perform with The Iron Maidens on my birthday in Stockholm, Sweden. And The Iron Maidens really helped make a perfect night for my friends and I. You can read all about that evening here in my Birthday with The Iron Maidens Blog.
Becoming friends with Nikki and some of her family through a chance casino drinking night for a Monsters of Rock Cruise pre-party, I asked her to take some time and show us a window into what it's like touring the world with such a notable tribute band.
An Interview With Iron Maidens Guitarist NIKKI STRINGFIELD
Meister – How did you come to join your fellow Maidens in the world's only all-female tribute to the iconic Brits?
I had just moved to Los Angeles and joined an original metal band called Before The Mourning. A few of the guys were good friends with Courtney and Nita, so after hanging out with them a few times, Courtney asked me to fill in for a show. It's hard to believe that was over 7 years ago! At that time the band had a few Dave Murray subs so after playing a few shows with them I started rotating out with Nita and eventually it just became a full-time gig!
Q – The Iron Maidens have played places like Malaysia and India. How were those experiences?
It's always been my dream to travel the world.. before I joined the Maidens I had only been to a few different states! Being able to not only visit different countries but perform there and meet people who share my passion for music as well makes it a really special experience. India was a pretty crazy experience! We traveled there to play at the Orange Festival of Music and Adventure; it's in a pretty remote area and not easy to get to! We made it to India and unfortunately our drummer, Linda, couldn't make this gig so we had Avoy, who plays for an Indian Maiden tribute, fill in. After our flights kept getting canceled, we managed to get the last flight out and made it just in time to walk onstage for the show. It was all worth it to see the crowd loving the music and rocking out in the pouring rain! Unfortunately, we didn't get to see much while we were there and we ended up not going to Malaysia, but hopefully, we'll get another chance one day!
Q – This current Maidens tour saw USA dates after MORC and then throughout Europe. How long did it go for and where did it take you all? Any place you're looking forward to seeing a little of?
Our European tour lasted about 5 weeks and spanned 9 countries.. Germany, Sweden, Norway, Austria, Switzerland, Belgium, Hungary, Poland, and Slovenia! We played lots of new places this time so it was an awesome tour! We didn't have much time off at all but in between sound check and the show, we would try to see as much as possible if anything was in walking distance. In Graz, Austria we performed in a mountain that used to be an underground bunker during the war so that was pretty awesome, as well as climbing to the top of it outside for an amazing view of the city. I really wish we could have seen some of Norway because I've always wanted to go there but unfortunately our schedule didn't allow it. That's how it goes though when you're on the road!
Q – The Iron Maidens are working on a new album? When? What? Do you have to get special permission from Iron Maiden to release these songs? Bob Kulick and Bobby Ferrari are involved in production/recording?
Yes!!! We are totally done recording and it's being mixed and mastered now. I'm not sure when it will be released but we will keep you updated! We make sure that everything is all taken care of legally and it's all good with Maiden.
Q – What is Heaven Below? Are you in that band or just a fill-in for a few shows?
Heaven Below is an original rock band from Los Angeles that my friend Patrick Kennison fronts. I've always loved the music and I was stoked when they asked me to fill in for a few of their shows last year on lead guitar. It's definitely not an easy task! Nothing is official but I've played and sang on a few songs on their upcoming cover album Rest in Pieces. Patrick is usually super busy playing with Lita Ford and I'm out on the road a lot so it's been hard to get more HB shows booked with our crazy schedules! I'll keep playing with them as long as they let me haha.
Q – And you also had tenure in Femme Fatale, taking over for Nita Strauss? How long were you with Lorraine and will there be any future Femme shows or has she seriously hung it up?
Hmm… I can't remember exactly what year I started playing with Femme, but it's been a while! We actually just played our last show on MORC, unfortunately. Lorraine just joined Vixen so she's out kicking ass with them now! As far as I know, it's definitely done.
Q – What about before that? Before you came to larger attention? How/what got a guitar in your hands? Why Hard Rock/Metal? I know you've cited Kurt Cobain as an influence but basically give us the story of Nikki up to present.
Nikki Stringfield – Jack Lue

I guess it all starts with my parents listening to good music. Thanks, mom and dad! My dad played guitar and therefore I wanted to as well. I started playing guitar when I was 14.. once I really fell in love with Nirvana I bought a tab book of their greatest hits and sat and learned every song. That's basically how I learned how to play! I loved anything from Maiden to Pantera to The Doors, to Avenged Sevenfold. I love all sorts of rock/metal, new and old. I was just drawn to it. I started making YouTube videos, when I was around 17 or 18 I believe, of me playing songs and it just kind of went from there. It's crazy because I still have people tell me that they've been following me since my "YouTube days." I'm so thankful for that! Fast forward to 2012 when I moved to LA, met the Schecter family and my bands, and that's when I started playing shows.. what a life changer!
Q – What makes you get on stage? Having played on both larger stages and clubs do you prefer one to the other and why?
It's all about the love of music.. I love playing guitar and I can't imagine doing anything else. With the Maidens, we've played anything from tiny stages to huge stages and festivals. Each one is amazing in different ways.. with smaller clubs/stages it's a more intimate vibe and you can really connect with the audience; with larger stages, you can really run around and feel like you're kicking ass. I love them both!
Q – Do you have and who sponsors your for guitars or strings etc?
I do! I've been playing Schecter Guitars since I was 14 and I'm so lucky and thankful that they took me in when I moved to LA and treated me like family. I now have a signature guitar that I got to design and I'm still in awe of that every day. Having that is something I used to dream about and I still have to pinch myself when I think about it! It's real! I use GHS Strings for everything and they really take a beating on the road! They never break! I started using a Kemper Profiler Amp about a year and a half ago for live shows and recording and I absolutely love it. It makes my life so much easier since I can travel with it wherever I go and I know I'll always have my sound and not have to rely on backline. I use PickGuy Guitar Picks, Seymour Duncan pickups, ENKI Cases for bringing two guitars on the road, SKB Cases for my Kemper, FU-Tone, and Getm Getm Guitar Straps!
Q – And you are working on your own material as well? An EP, I believe?
Hell yeah! I actually started recording vocals this week so it's getting close to being done! I've been working on it for a year now and with all of the touring, it's been hard to get things going. It will be 5 songs and I'm planning on having it available physically and digitally.
Q – When do you see release for it? Independent or through a label partner?
I'm hoping by the end of the summer at the latest. I've still got a lot of work to do after we get it mixed and mastered.. I'm planning on doing everything on my own as of right now.
Q – Are you doing all of the writing and playing all instruments yourself? "As Chaos Consumes" and "Save Our Souls" are two videos I've seen on YouTube…are they a part of the EP as well?
Those two songs won't be on this album.. they were my first recording attempts and I wasn't really sure what I was doing yet. This time it's being recorded and produced professionally and it's going to sound so much better. It already does without being mixed! I've written and played everything myself except for the drums.. unfortunately, I'm nowhere near coordinated enough for that haha. I just made basic drum tracks to get the idea of the song down and let my producer Jesse take over from there since he's a drummer as well! Patrick Kennison is recording and producing my vocals so he's really pushing it to the next level. I'm really excited!
Q – Let's talk MORC for a sec. I love that damn ship! How many times have you been on and what's it like for you from an artist and also a fan perspective?
I love it!!!!! The first time I went was the west coast cruise and I played with both Femme and The Maidens so it was pretty hectic with the scheduling.. on top of that I had a horrible fever but I still had a great time! I've gone on the regular cruise twice now, once with The Maidens and once with Femme. I'd be fine with doing that twice a year haha. There's nothing better as an artist and a fan than getting to be on a ship with a ton of friends who all share the same love of music and just getting to rock out! As an artist, it's amazing because you get to be a part of a killer line up and be on vacation at the same time, whereas from a fan perspective I get to go see some of my favorite bands. You can't beat that!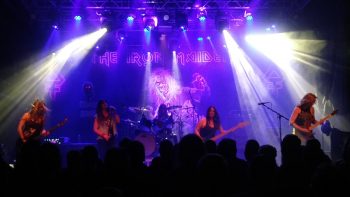 Q – I thought for sure Steve Harris would get up on stage when both you ladies and British Lion were on board in 2017…did you try to make that happen at all?
We definitely would have loved that for sure, but unfortunately, it didn't happen. A lot of fans brought it up but we didn't approach him about it. I'm sure he wanted to enjoy his cruise and British Lion. Maybe next time!
Q – Do you also do some modeling? I've seen you share some pics to that effect? Kelly Maglia Clothing?
I've modeled for a few friends clothing lines.. Kelly Maglia is an amazing artist and she had made a custom corset for me. So when she asked me to help model some of her clothes I said hell yeah! Recently I modeled for the Black Marketplace, which is my friend Sarah's online store that sells all black clothing.
Q – How do you see gender stereotyping in hard rock/metal? Is it still as much of an issue today? Has it been a stumbling block in your career? What advice would you give to other ladies wanting to perform in rock and metal?
I don't think it's as much of an issue today thankfully. I think it can go two ways.. being a woman in rock/metal can be an advantage because women are really starting to become prominent with playing instruments and not just singing. People are embracing it and realizing we can rock just as hard as guys can. It hasn't been an issue with my career so far.. there will always be people who say "she plays awesome for a girl!" but hopefully one day it can just be "she plays awesome!" And there will always be people that won't take you seriously because you're a woman, and not even give you a chance.. but that just means you have to keep going and prove them wrong. I'd say don't let anyone's negativity bring you down and play from your heart. Never give up and never lose your passion!
Q – You've also done some painting? I see that a print was available on your webshop called "Darkness Descending"?
I actually don't paint. I draw! I use Prismacolor pencils which have a waxy consistency so they don't really look like other colored pencils the way I use them. Drawing was my first passion and I've been doing it ever since I can remember. I was voted most artistic in high school and that's how everyone knew me.. once I started playing guitar that kind of took over and I don't have much time to draw anymore. I try to as much as possible! I'm hoping to have a new print up in my store soon.
Q – And as a fun one to wrap up…..what's the one song that you wish you wrote?
Oh… that's a good one! Off the top of my head..going back to Nirvana here.. I'd say "All Apologies." I absolutely love that song.
Q – Anything you want to say to the readers/fans?
Hope to see y'all on the road and I really can't wait to share my new music with you! Cheers!!!
Thanks, Nikki!
Thanks, Nikki for taking this time to give us a window into your creative world. Keep on rocking the world and bringing excellent music and concerts to the masses! I look forward to your own EP and the next time I see you rocking up on a stage somewhere in the world. Cheers!
BUY Iron Maidens: Amazon.ca / Amazon.com
IRON MAIDENS WEBSITE / IRON MAIDENS FACEBOOK
Cheers,
The Meister
Find more of my album reviews here: Meister Music
CGCM Podcast / Meister on Facebook / Meister on Instagram / Meister on Twitter / Meister's Email
[embedyt] https://www.youtube.com/watch?v=LHlgmHx0mqY[/embedyt]