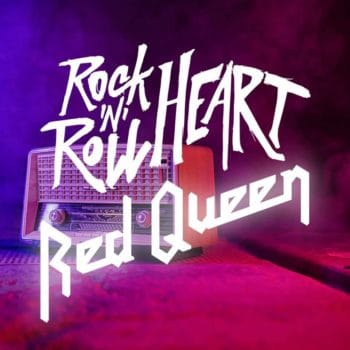 RED QUEEN – Bio
Lukas Bond (Vocals), ZZ Lee (Guitar), Senti (Guitar), Bobby (Bass) and Randy C (Drums) make up Swiss five-piece, Red Queen.  They were completely unknown to me.  Therefore, I took a punt on them and I am so glad that I did.  I was impressed by their bio too.  They say, "our songs are our diary and the footprint we want to leave on Earth."  Think big lads!
Formed in 2013, the guys have recorded two full-length records, Kingless and Rock 'N' Roll Heart.
RED QUEEN – Rock 'N' Roll Heart
The first thing that strikes you is the garage-type production.  However, the result is charming rather than distracting.  The music is fuzzed-up rock and the production reflects the blue-collar approach to the tunes.  Red Queen manage to do the near-impossible – they have a distinct sound, mostly due to Bond's angelic singing and unusual tone.  It is hard to make any direct comparisons to vocalists, but there is a smattering of Ian Astbury of the Cult.
I love the vocal harmonies on tracks such as "The Hard Way" and "Without a Trace".  The lyrics are also quirky and you heard unexpected F-bombs all over the place.  It is like a lo-fi version of Appetite for Destruction, but without the bombast.
There is something so authentic about this record.  It beats its way through the eight songs and reminds me of another great rock band, The Granite Saints with its punk rock ethos.  I have been reviewing rock releases for a number of years now, but it is records like Rock 'N' Roll Heart which leave the biggest impression on me.  No hype, no fuss, just wonderful music to drive to and lose yourself in the moment.
The guitars crunch, the vocals soar and growl, the bass anchors it and the drums roar.  Turn it up and lose yourself from the world outside.
Buy: Amazon (UK)
Coxy
Also, find more of my CGCM reviews here: Coxy
[embedyt] https://www.youtube.com/watch?v=6vKkZiB4nuU[/embedyt]